I have been an admirer and collector of Berluti shoes for almost 20 years, so I was touched to receive an invitation to meet the legendary Madame Olga Berluti.
With my wife She-colibri on my arm and my latest pair of Alessandro on my feet, I arrived at the soirée held in the historical Berluti store of Rue Marbeuf in Paris. Mingling among particularly well-dressed guests including Antoine Arnault, chief executive of Berluti, we admired the newly launched Berluti Art collection, created by Olga Berluti, the reason for the night's celebrations.
During this elegant evening, She-colibri and I had the immense pleasure of chatting with Olga Berluti. We found her to be especially charming and lively, and both humble and proud when discussing her career and her work.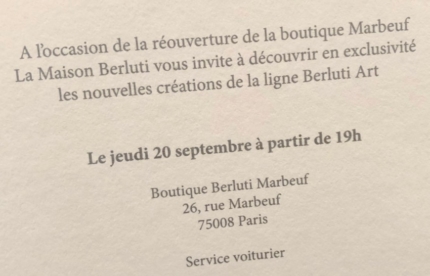 Olga Berluti is the granddaughter of Alessandro Berluti, founder of the House of Berluti. She is the last member of the family to have held the reins of the family business. A true visionary, Olga propelled Berluti into the modern world and made it into a stellar brand. Maison Berluti stands for craftsmanship, technical virtuosity and offbeat creativity.
Olga Berluti developed Venezia leather, using an exclusive natural and mineral tanning process. She gained the faithful custom of prestigious clients such as, to name but a few, François Truffaut, Pablo Picasso, Yves Saint Laurent and Andy Warhol, for whom she designed the iconic loafers Andy in 1962.
Most significantly, Olga Berluti raised shoe patina to the level of art, boldly bypassing the codes of good taste and introducing color in the world of men's shoes, at a time when most men's shoes were black or brown. Olga developed an extraordinary new palette of colours and Berluti shoes became unique, an extension of the style and allure of the man who wore them.
"The end of wisdom is to dream high enough to lose the dream in the seeking of it."   William Faulkner
MY PASSION FOR BERLUTI
I acquired my first pair of Berluti shoes in the early 2000s: it was the iconic model Olga III in scritto leather, in a deep shade of cognac. They still hold pride of place in my dressing and I wear them occasionally with unabashed pleasure! On that memorable day, I was ushered in the Berluti store of Saint-Germain by Thierry du Sorbier, director of the store, and who has since retired. My first fitting, guided by this knowledgeable and cheerful gentleman, convinced me that time had come to walk the Berluti walk!
Over the years, I have had the pleasure of getting to know several representatives of Berluti, such as Luigi Pace, deputy director of the store in Rue du Faubourg Saint-Honoré, who always strives to meet my expectations in terms of patina or timing. Cédric Lécuyer, formerly of the Rue du Faubourg Saint-Honoré and now deputy director of the legendary Berluti boutique of Rue Marbeuf, attends to me on each of my visits with kindness and expertise. In my experience, entering a Berluti store is a prelude to a moment of pleasure and refinement.
BRIEF HISTORY OF THE HOUSE OF BERLUTI
The House of Berluti was created in 1895 by the young Alessandro Berluti, who left his native Italy to settle as a bootmaker in Paris. He created the Alessandro shoe, which showcased the unusual design of a single piece of leather with no visible stitching. The Alessandro became – and still is – an icon of the House of Berluti, being revisited by each Berluti generation.
Under Alessandro's son, Torello, Berluti attracted an elite clientele among the jet-set, the arts and the intelligentsia during the Roaring Twenties. In 1928, Torello opened the first Berluti workshop-boutique on Rue du Mont-Thabor. With a growing clientele, the shoemaker would soon need a larger space, and he acquired the legendary boutique at 26 Rue Marbeuf near the Champs-Elysées.
His only son, Talbinio, was driven by a desire to give Berluti an international and multi-generational dimension. Until then Berluti shoes were all bespoke: fully customizable and handmade from scratch. In 1959, Talbinio Berluti launched the first luxury ready-to-wear shoe collection, thereby attracting a younger clientele.
In the 1960s, Olga Berluti joined the family business and strove to make her mark on the House of Berluti, where she soon imposed her artistic flair and desire for innovation.
After the acquisition of Berluti by the LVMH group in 1993, Olga Berluti stayed on as artistic director until 2011. Alessandro Sartori (previously at Zegna) succeeded her. In September 2016, Haider Ackermann was appointed artistic director, followed by Kris Van Assche in April 2018.
MEN'S SHOES AS OBJECTS OF DESIRE
To the elegant man of today, admirer of good and beautiful things, the shoe is the signature of a look. This man knows that a beautiful shoe, like a great wine, will only improve with time and will gain in patina and comfort. It may even develop a soul, as some would say, quoting Olga Berluti !
"Your shoes possess a soul."  Olga Berluti
In the eyes of Olga Berluti, nothing is more beautiful than a shoe that has been worn and whose color has started to wear away. In the early 1980s, she introduced patina as a way of reproducing the beneficial effects of age on leather.
Undoubtedly, it is thanks to Olga Berluti that men's shoes initiated their transformation from practical objects to objects of desire. Berluti shoes and boots are timeless and immaculately crafted, with offbeat detailing that appeals to the Berluti man who, like me, loves classic elegance with a soupçon of flamboyance.
BERLUTI PATINA
One notices a man of taste by the patina of his shoes. For several years now, a bold approach to patina is de rigueur among the style-conscious, thanks in part to the rise of sartorial individualism and personalization. The uniqueness of each pair of shoes and the handcrafting make a difference in this world of mass manufacturing.
Patina is the result of many techniques for coloring and bleaching leather, through the application of solvents, essential oils, pigments and dyes. Produced by hand by expert colorists, the technique gives the shoes distinctive vibrant shades. The patina also adds a distressed appearance, creating an impression of leather that has evolved with time.
According to traditional etiquette, a gentleman was not supposed to wear brown shoes after 6 o'clock in the evening, but black ones. Surprised by the lack of originality of a man's wardrobe, Olga Berluti challenged the rules of color by developing the Berluti patina and imagining an infinite range of shades. No longer were men confined to black or brown.
During our discussion, Olga Berluti told me about the effect of moonlight on the discoloration of leather, thereby confirming the legend that it is understanding the influence of the moon on the depigmentation of leather that allowed Olga Berluti to develop the colour range, contrasts and transparencies that give each Berluti shoe its signature.
Just as an artist does for a painting, the leather colorist juggles pigments and plays with dyes and essential oils. The patina can then be tortured (enriched with colour gradations), flamed (with light streaks) or cloudy (with smoke-like effects). All these techniques can of course be applied to the entire shoe, or to specific areas only. No two pairs of Berluti shoes are alike, each one becomes a work of art.
I really recommend taking a moment to admire the work of the colorist at the patina bar: a workbench littered with brushes, sponges, cloth rags and bottles of essential oils and ink that take pride of place in Berluti workshops-boutiques.
BERLUTI TATTOO
In 2003, following years of research, Olga Berluti perfected a technique for tattooing leather. An artisanal process of great precision, tattoos are created with a needle and pigments, point by point, by a specialised tattoo artist, inked directly on Venezia leather. Again, as for patina, the only limit is the client's imagination.
In keeping with the innovative spirit instilled by Olga, Berluti called upon Scott Campbell, the Brooklyn-based tattoo artist whose creations are considered works of art. American stars swear by him: Marc Jacobs, Josh Hartnett, Orlando Bloom, Helena Christensen and many others have one or more "Scott Campbells". This artist has developed a series of exclusive tattoos for Berluti, adapting contemporary art to footwear and leather goods to makes personalising shoes, bags or belts even more daring.
BERLUTI VENEZIA LEATHER
In order to produce a patina that gleams like Japanese lacquer, a suitable base was needed. It is Olga Berluti who developed the Venezia calf leather, leather so supple and fine that it permits all kinds of creative audacity. It is full-grain, uncoated leather made from skins of exceptional quality. The shoes are cut from the noblest sections of the leather, eliminating all defects.
BERLUTI KNOT
The quintessence of sophistication, the Berluti knot was introduced by Olga Berluti in the 1970s.  The family heiress took inspiration from another heir, a royal one, faithful client of the Maison Berluti. The Duke of Windsor was famous for his elegance and for having popularised the renowned Windsor knot for ties. To tie his shoes, his grandmother taught him a double-loop knot that prevented his shoelaces from coming untied during military parades and official ceremonies.
Since then the Berluti knot, as infallible as it is simple, has been passed on from faithful knotter to faithful knotter, only coming undone when its owner decides it should, by pulling the two laces simultaneously.
Learn how to tie a Berluti knot in this video : Berluti – a lesson on tying shoes.
SHOE POLISHING ACCORDING TO OLGA BERLUTI
There is absolutely no excuse for shoes whose patina or cleanliness leaves to be desired. Tutorials on YouTube showing how to polish and shine shoes are very easy to apply. Shoe care, even with quality products, is not expensive, but it does require a little elbow grease.
A video to watch without moderation: Berluti – lesson on polishing shoes, a lesson given by Olga Berluti herself on a pair of Alessandro of the Demesure line. With the voice of Olga Berluti, classical music playing and the sheer poetry of the process, this video can only motivate us to take action, brush and cloth rag in hand !
OLGA BERLUTI AND MOVIES
Olga Berluti has tight links with the movie industry. In life as on stage, she has put her talent at the feet of many stars of the silver screen…
"Your shoes are a child's dream on an adult's feet."   Sergio Leone to Olga Berluti
She was nominated for several Césars (French Oscars) for her costume work on various films. In 1986, she received the supreme award for best costumes in Arthur Joffé's film Harem, starring Nastassja Kinski and Ben Kingsley.
BERLUTI SERVICE
In addition to the savoir-faire, quality, innovation and beauty of its products, Berluti distinguishes itself with the quality of its service. Once a client of the House of Berluti, the staff will be there to listen to your wishes, understand your habits and tastes, and also share vast know-how, dialogue and make suggestions. Whenever you visit a boutique, you will at the very least have an interesting conversation with another enthusiast.
He-colibri
Berluti | 26, Rue Marbeuf | 75008 Paris | France | +33 1 53 93 97 97 | berluti.com